TheCouchPotatoSeries returns with another show today. There are just so many shows that I had a hard time narrowing down. Since I started off this series with a show which is about to get cancelled :( I thought, today I might as well write about a feel-good TV series.
The show which is going to be featured today is

New Girl

!!
To begin with, who doesn't like Zooey Deschanel? Such a lovable woman. Teamed up with 4 other main characters- the show is riot!
The show is about the uber cute (girlcrush?-yea why not?!), dorky woman who had a recent breakup with her cheating boyfriend and moved into a loft shared by 3 guys after seeing an ad in
Craigslist
. It's about her life and friendship with the guys. Initially the guys are little apprehensive about her. However, the moment they come know to know Jess has friends who are models, they take her in as a loft-mate. o_O
Her life now revolves around her career as a teacher, the loft, her best friend Cece (the model friend I was talking about), her quest to find true love and of course the 3 guys - Nick, Schmidt & Winston.
There is an instant chemistry thing between Jess & Nick, even though nothing of that sort has happened in the show..yet. I'm rooting for them. Every actor in the show is unique in their own way.
From LtoR-Cece, Winston, Nick, Jess & Schmidt
Cece - Childhood friend of Jess. Indian. Confident. Model. Smartass. Always there for Jess, when her quirkiness gets her into trouble. Had a brief relationship with Scmidt.

Winston -
Childhood friend of Nick. Former basketball player. Cannot really keep a job since he gets bored too often & way too fast. Recently, landed a job which he enjoys
*about time.*
Funny in his own way. Most of the times he is the cool dude. There are moments when he is plain hilarious. Enjoys girly drinks with umbrellas for instance. Or like the way he sings in his scary high pitch or screams like a girl or when he thinks he has "sympathy PMS".
*eyeroll*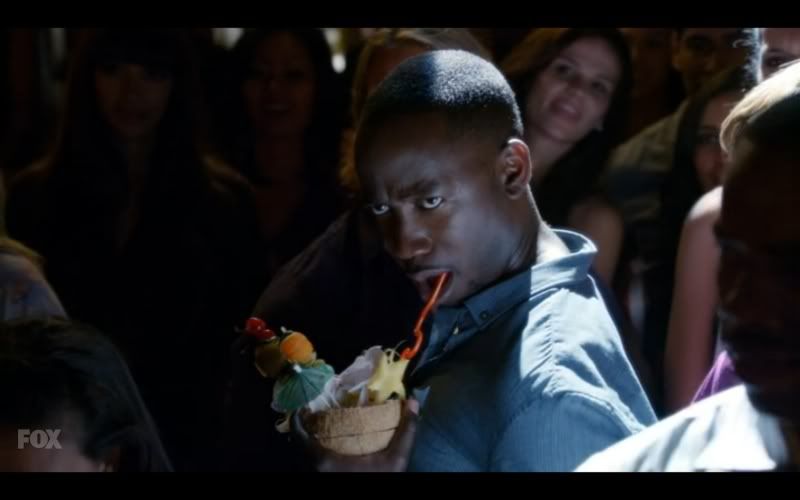 Nick
- Law school drop out. Bartender. Most of the times, he reminds me of an angry, grumpy old man. Frustrated, pessimistic, frowning young man. He does a good job at that. Aspiring zombie author. Totally sucks at it.
Known for leaving things half done. Crazy sounding voice Yep, he is my favorite. I crack up, even thinking about him. Still hasn't found the love of his life after a messy breakup. I so hope its going to be Jess. *
Even though they are currently dating others.*
Jess
- Polkadots. Bows. Glitter. Nerd Glasses. Bangs & loose waves of hair. Super-cute, vibrant colored dresses. The
adorkable
protagonist, who sometimes
sings
instead of actually
speaking
and has some other weird antics up her sleeve!

Schmidt - The womanizer. The only guy in the company he works for. A former gawky, overweight college mate of Nick. Self obsessed. Ultra clean and has a tinge of OCD.
Has no idea how ridiculous he sounds when he says the most bizarre things resulting in the loft mates to start the ritual of the Douchebag Jar. Each time he says something 'douchey' he needs to put money in the jar. Schmidt and Cece hook up couple of times. Later, they admit their feelings towards each other. I should say, they look good together in some insane way! The season 1 finale featured Schmidt breaking up with Cece. I think they are far from it. The best part is, Schmidt is still in love with her.
As per the creator of the show, every episode is somewhat based on some incident that actually happened to someone in New Girl crew which they later on may or may not modify! Nominated for best actress comedy(Jess) and best supporting actor (Schmidt) for the 2013 Golden Globes. I say, these guys are so hilariously full of life. A must watch. The latest episode 'Pepperwood' brought me to tears.. from laughing so hard for the entire show!
T
he
C
ouch
P
otato
S
eries will be back soon!
TheCouchPotatoSeries 1