T
he
C
ouch
P
otato
S
eries is back!! Guess who's in town? Its the suave con man Neal Caffrey from White Collar.
Now, if you are going to tell me you have not
yet
watched the show, I demand you to start watching it- I don't care how. Atleast for the super smoking good looks. You will thank me ladies...and gentlemen :)
This show has been on streaming in Netflix for several months now and guess what, I didn't click the watch button the very minute I realized this truth! Why you ask? It's because, I was keeping it for the future. A future where I might just run out of shows to watch and I can just melt into those striking blue eyes. Savoring it. Yea I know, I am over dramatizing it. I'm known for that!
Anyhoo, one fateful day I was bored straight and I decided to login to Netflix and the rest is history. I was hooked from the moment the legendary Neal Caffrey- art con artist escapes from prison and slips into those designer suits!
Ladies & Gentlemen I present to you, Matt Bomer as Neal Caffrey- the sophisticated con man, master forger, big brains, high profile thief, art lover, killer looks. Seriously what more do you want? No, don't answer that. That was a rhetorical question. :|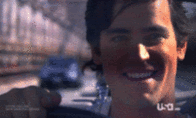 The opening scene - Neal Caffrey serving time in a maximum security prison escapes just months before his release date,
kleptos
a Rolls Royce and cruises through the roads of Manhattan. Subtle! The FBI agent Peter Burke, from the White Collar division who caught Neal Caffrey years back is (re)assigned to (re)catching him. Since Burke is the only guy who really knows Caffrey's ways and thought process, he soon catches up with Caffrey. Fast forward a little, Caffrey cuts a deal with the FBI to be assigned as the Criminal Informant (C.I) in order to prevent from going back to prison. Burke decides to give him a chance and hires him as a consultant plus a piece of jewellery. The bling being a tracking anklet!
From there, starts the slick life of Neal Caffrey, beloved con man who smiles his way into living in a mansion owned by a rich widow and also inheriting her late husband's vintage suits!
Peter Burke along with his FBI team now armed with Caffrey starts out to catch geniuses with ah-not-so- good motives. Caffrey with his big brains and charm, undeniable reasoning abilities does the FBI a favor or two. He who once been a con man himself thinks like one to catch the wrong guys with the occasional help from his best friend Mozzie- the shadowed genius. The dynamics between Burke and Caffrey is a joy to watch. Burke awed by Caffrey's ways yet weary of his slight cockiness. It's almost like 2 brothers.
The thing about White Collar is that there is not much of violence, barely any cuss words and no graphic you-know-what scenes. It's all about the style and sleekness. Most of the crimes are either a heist or some sort of robbery counterfeit combo. So you can expect a lot of stakeout nights, Caffrey impersonating as some big time buyer or an expert to get more details on the current case & a lot of social events.
The characters are all like a feast on Thanksgiving.
From LtoR- Sara Ellis, Neal Caffrey, Clinton Jones, Diana Barrigan, Mozzie, Elizabeth Burke, Perter Burke
Peter Burke
- FBI special agent in the White Collar division. Smart enough to catch Neal Caffrey. A loving husband. Funny. Successful. Even though he cares for Caffrey, he is clever enough not to trust Caffrey completely.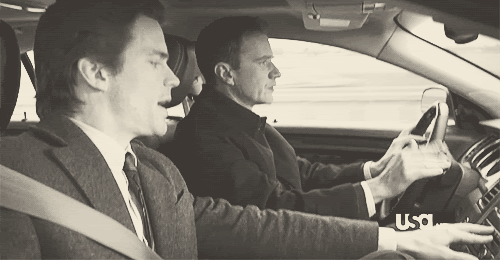 Elizabeth Burke
- Married to Peter Burke for 10 years. They are like the most adorable couple eva! Event Planner. Warm & friendly. Often acts as a mediator when there is tiff between Peter & Neal. You get a warm feeling when Elizabeth starts talking. Like a supportive super smart beautiful elder sister. Biggest supporter of her husband. Also takes sides of Mozzie and Caffrey when needed.
Mozzie
- Quick witted silver tongued ally of Caffrey. Caffrey's go-to guy when it comes to getting hold of information. Connected to the criminal world, fake ID guys and what not. In a nut shell a walking , talking encyclopedia. An orphan, therefore has a soft corner for children. Does not trust the FBI or any other government institutions. A huge conspiracy theorist. He is an absolute delight!
Sara Ellis- Insurance Investigator. Smartass. Often, her cases are linked up with the FBI. Caffrey's romantic interest. I hope they end up together. It's like they are just meant to be!



Diana Barrigan- Special agent. Burke's right hand. Street smart & dedicated to the job. She is back from Washington D.C to work under her mentor in New York. In spite of the fact that Caffrey and Barrigan gets along, its she who keeps him in line most of the times.


Clinton Jones- FBI agent. The quiet one in the team. Strong believer in justice. Even though Caffrey comes up with not so straight forward contributions to solve a case, Jones appreciates his involvement. Considers Caffrey as a friend, however still believes that Caffrey needs to serve his time as a C.I before being released. Dedicated to his job, a team player. Harvard Law School product.
Kate Moreau- Caffrey's then girlfriend for whom he escapes prison in the first place. Fellow con artist. Personally not a fan of Kate. Pretty? sure. Acting wise- not so much.
There is also an underlying story which continues from one episode to the next keeping the audience wanting for more. The initial seasons were the quest to find his then girlfriend and a secret associated with her and now its something to do with his past.
So watch, swoon, enjoy and send me a cookie :D
Will be back.
Ciao