When you are down in the dumps, you may find people who
try
to console you. You may or may not think you need any consoling. Some like to be left alone while others like to rant and cry a river. But it's really not up to you, is it? Sometimes when you need someone to make you feel better, you find yourself all alone and at other times when all you need is to be left alone people hoard around you.
What I don't get is when people
try
to console, by saying stuff like
It's okay.
Look there are so many others who have it worse than you.
Soo.. you are telling me that I should feel better that others are suffering too? What kind of sadistic person did you think I am? If you don't know what to say keep your frikkin mouth shut!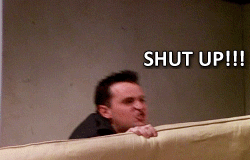 Sometimes, its better to just the leave the
wounded
person alone. No amount of
I'm sooo sorry that such &such happened to you
is going to make the person feel better. They may smile and politely nod their heads. Most probably they would feel like wringing out your neck!
Aaand since we are ranting todaii, I might as well say this. I despise Taylor Swift. I cannot stand yet ANOTHER break up song each time I switch on the radio. There, I said it!

I am in the obnoxiously rude mode today.